Unless you live next to a bike shop (and even if you do), you'll need a few tools and supplies handy at home to keep your bike tuned and ready to roll. Here are the basics we recommend. (If you've already got these covered, Selene mentions more tips for basic bike maintenance and repair in the Big Book of Cycling for Women.)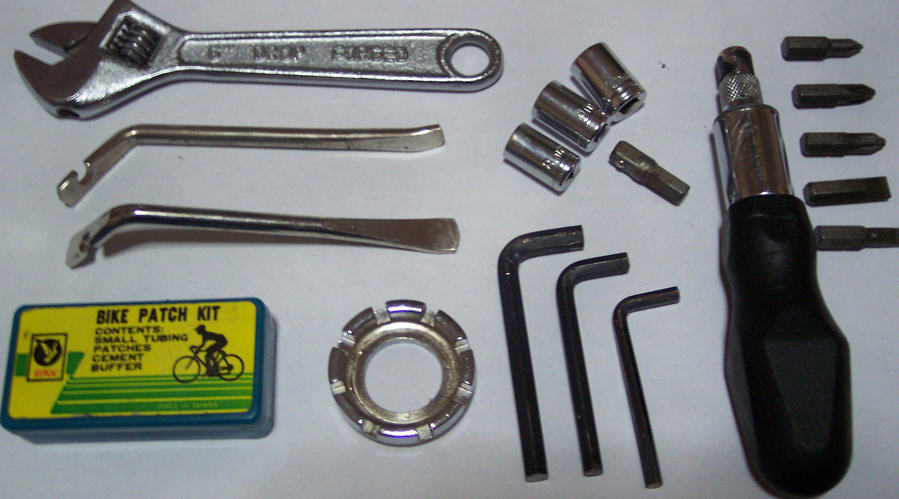 Even if you never actually get a flat by puncturing your tube, your tireswill eventually go flat if you don't pump them up. That's because the rubber is slightly porous and naturally loses air, even in as little time as overnight. You'll want to have a standard floor pump (not just a mini-pump) to inflate your tires with on a regular basis.I make it a habit to pump up my tires before just about every ride, or at least every other ride. A good pump will have a gauge that tells you yourtire pressure, and many also have convenient markings right on the gauge indicating the appropriate pressure for road, mountain, and hybrid bikes.

Chain Lube
Chain lube reduces the friction of metal on metal that can grind down and wear out your bike's drivetrain prematurely. It also helps keep your bike pedaling quietly and shifting smoothly. There are many types of lubes for all sorts of riding conditions. I like "self-cleaning" varieties, which means the lube acts like a solvent that cleans the chain of debris and old lube while it lubricates.

Tire Levers
You can't fix a flat if you can't get your bike tire off the rim. And though it's sometimes possible to do it with your bare hands, it's far easier with a set of tire levers. The mechanics I know like Mavic levers because they have a broad, flat blade and rigid plastic build that make them kind totires, tubes, and rims, yet still effective for peeling off stubbornly tighttires.

Hex Keys
Also known as Allen wrenches, these are a must-have for any avid cyclist.

Bicycle-specific toolmakers make sets, but good-quality metric keys from a hardware store work fine. Bondhus is a popular brand, known for its often-copied ball-shaped tip, which allows you to easily spin bolts from an angle when access is limited. Get the following wrench sizes: 1.5, 2, 2.5, 3, 4, 5, 6, 8, and 10 millimeters. These will work with tiny setscrews on suspension-fork adjuster knobs, crankarm fixing bolts, and everything else.

Torx Keys
You definitely still need your hex keys, but there's another type of hardware taking over the cycling world called Torx bolts that are shaped more like stars than hexagons. Disc brake rotor hardware is nearly all Torx already, and Campagnolo uses Torx on many of its newest components, as do SRAM for its XX group and FSA for its chainring bolts. Three sizes–T-10, T-25, and T-30–are all you need for now. Park Tool makes a folding set (the TWS-2, $19) that has these sizes and more.

A Multi-Tool
Mentioned earlier, but it bears repeating: A good multi-tool can mean the difference between making a swift, easy mid-ride adjustment or repair and suffering with poorly working equipment or, worse, whipping out your cell phone and waiting for a ride home. Always carry a palm-sized workshop, like the Lezyne RAP 13, which boasts eight sizes of hex and Torx keys, a Phillips screwdriver, a chain tool, and even spoke wrenches.